Upcoming Events
---
November 2021
Private Port Tastings
11:30 AM to 3:30 PM
Sun, Nov 7, 2021 - Sun, Nov 28, 2021
Venue:
7280 Fairplay Rd, Somerset CA 95684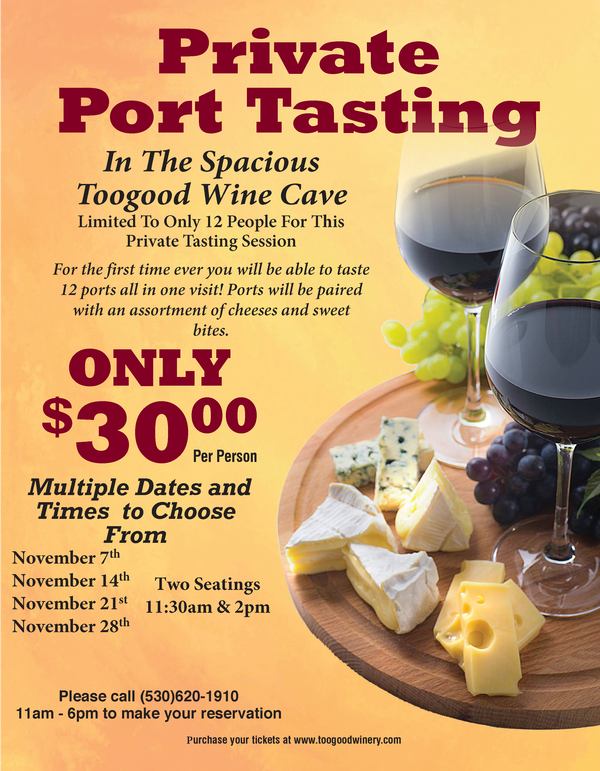 We are excited to announce more always popular Private Port Tasting dates!
These are sell out tastings…Reserve a spot for one of our private port tastings we will be holding BACK IN THE TOOGOOD WINE CAVE!! For the first time ever you will be able to taste 12 ports all in one visit! Ports will be paired with an assortment of cheeses and sweet bites. This tasting will be limited to only 12 people for each date. See dates to choose from, with two tastings at 11:30 am & 2pm.
Only $30.00 per person
Multiple Dates and Times to Choose From:
Red Friday
11:00 AM to 6:00 PM
Fri, Nov 26, 2021 - Sun, Nov 28, 2021
Venue:
7280 Fairplay Rd, Somerset CA 95684
Red Friday Wine Sale!
Join us the weekend after Thanksgiving for our annual Red Friday Wine Sale! We will have specials on all of our wines, with cases starting at only $129! The Wine Cave will be open and serving your favorite Toogood Wines & Ports.