Bottle Your Own Wine
| | |
| --- | --- |
| Date: | Sat, Mar 6, 2021 - Sun, Mar 14, 2021 |
| Time | 11:00 AM to 5:00 PM |
| Venue: | 7280 Fairplay Rd, Somerset CA 95684 |
| Phone: | 5306201910 |
| Email: | info@toogoodwinery.com |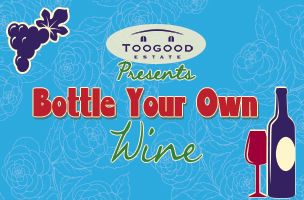 Join The Toogood staff for one of the wildest and most wonderful events you will ever attend – This is your day to be a winemaker! A true hands-on experience bottling some truly magnificent wines! With only four barrels of each of the following wines we did not meet the mobile bottling line minimums – So this is your chance to do the bottling yourself. Have a blast and save a "bunch of bucks".
You can also order BYO wines from the comfort of your house! Then simply swing by and pick them up anytime or we can ship them directly to you! Click the button below to learn more!
Featured Ultra Premium Wines:
We provide all the supplies: Wine bottles, corks, foils, labels and cartons. You provide the enthusiasm, energy and your wine making talent.
Only $9.99/Bottle* Mix and Match a case
Dates:
Saturday, March 6th & Sunday, March 7th
Saturday, March 13th & Sunday, March 14th

Time: 11am – 5pm
Cost: $9.99 per bottle* mix and match a case
Venue: Toogood Estate Winery, 7280 Fair play Rd., Fair Play, CA 95684